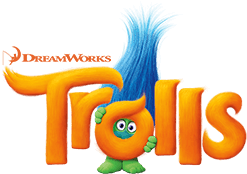 Trolls
From the creators of Shrek comes Trolls, a smart, funny and irreverent comedy about the search for happiness, and just how far some will go to get it. This hilarious film transports audiences to a colorful, wondrous world populated by the overly optimistic Trolls, who have a constant dance in their step and a song on their lips, and the comically pessimistic Bergens, who are only happy when they have Trolls in their stomachs. After the Bergens invade Troll Village, Poppy, the happiest Troll ever born, and the overly-cautious curmudgeonly Branch set off on a journey to rescue her friends. Together, this mismatched duo embarks on a mission full of adventure and mishaps trying to tolerate each other long enough to get the job done. 
Story:
After Bergens attack a Troll village, Poppy, a very happy Troll, and her friend Branch, who is the exact opposite of her, go on a mission to rescue their friends.
Review:
Made after the popular dolls by the same name, Trolls are deliriously happy creatures who sing, dance, hug every hour and need only, in the voice of their King (Jeffrey Tambour), "Fresh air, clean water... and sweet acoustics!", to survive. They are so happy that the big, bad and unbelievably sad creatures called Bergens have to literally eat them to feel happy. They even have a holiday called Trollstice in honour of eating Trolls.